LYNK Capital Mortgage Fund
Invest in Secured, Collateralized First Lien Mortgages
Earn

9-10%

Annual Returns* with Monthly Dividends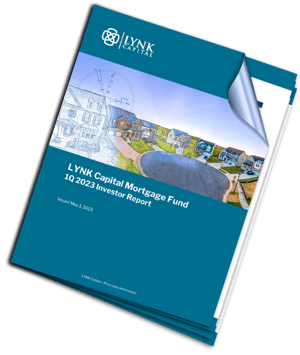 *For Accredited Investors only.
Past performance is no guarantee of future results.
Visit InvestWithLYNK.com for details and disclosures.
Overview of the
LYNK Capital Mortgage Fund
As of January 2023
In our 2022 year-end fund overview video (6:40), we share highlights of LYNK Capital Mortgage Fund's historical results, our team and loan products, areas of risk, and how we view the opportunity ahead.
If you are considering an investment in our fund, visit InvestWithLYNK.com to learn more.
LYNK Capital Mortgage Fund Overview Report
As of April 2023
In our fund overview report, you'll learn about the LYNK Capital Mortgage Fund's history, our financial performance, our portfolio, loan volume and transaction counts. Understand how we view and manage risk in our portfolio, our view of the current market, and what we see on the horizon.
Download the Latest Fund Overview

(2.2mb PDF)